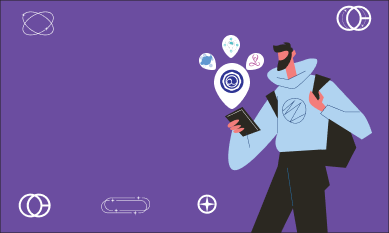 Happy to help You!
Fill this form if you are looking for any kind of help to run your startup.
In a world where stress, depression, and anxiety have become prevalent, one startup is harnessing the power of Vedic techniques to provide individuals with practical solutions for their daily life challenges. By combining astrology, yoga, meditation, and mental health practices, this innovative venture aims to help people rescue themselves from their life issues and achieve overall well-being.
The startup's core philosophy revolves around the belief that ancient sciences hold the key to delivering well-being for people in the modern era. By integrating Vedic techniques into their offerings, they provide a comprehensive toolkit to address various personal struggles. Whether individuals are dealing with stress, depression, anxiety, or simply seeking guidance for managing their lives better, this startup offers a range of solutions rooted in Vedic wisdom.
The challenges of the modern world can often overwhelm individuals, leaving them unable to manage themselves effectively. By tapping into various ancient techniques, this wellness and astrology startup equips users with practical tools to navigate their daily problems. Yoga experts, well-versed in the physical and mental benefits of ancient practices, guide individuals towards physical wellness, while astrology experts offer insights into the alignment of cosmic energies and personal destiny.
What sets this startup apart is its global reach. With a network spanning over 50 countries, the venture has successfully united wellness enthusiasts from diverse backgrounds and cultures. By incorporating astrology experts from different regions, the platform caters to specific cultural nuances, ensuring that users receive personalized and relevant guidance. With just a button click, individuals can connect with astrologers who understand their unique perspectives and offer tailored solutions.
The startup's impact on personal well-being is truly commendable. Over 500,000 users have already experienced the transformative effects of their services, with countless success stories of individuals managing stress, overcoming depression, and finding inner peace. Through their mission to provide holistic well-being solutions using ancient sciences and methodologies, this startup is making a profound difference in the lives of millions.
In an era defined by technological advancements, this wellness and astrology startup seamlessly integrates ancient wisdom with modern technology. Their user-friendly platform allows individuals to connect with professionals easily, enabling them to seek guidance and support with just a few clicks. Whether it's consulting an astrologer, joining a meditation session, or accessing mental health resources, the startup's interface ensures a smooth and hassle-free experience.
The startup's commitment to excellence and impact has gained recognition in the industry, with their inclusion in Crunchbase, a prestigious platform that showcases innovative startups. This acknowledgment further affirms their dedication to providing effective and reliable well-being solutions based on ancient sciences.
With a vision to impact the lives of millions, this wellness and astrology startup continues to expand its reach and improve its services. By blending Vedic sciences, technology, and expert guidance, they are paving the way for a healthier and more balanced future. Through their transformative approach, individuals are empowered to face life's challenges with resilience and find harmony within themselves.
For more information about the startup and its services, please visit:
Akashvaani
www.akashvaani.com
Startupkiduniya Newsletter
Get the latest insights directly to your inbox!